Model NO.:

OSC

Type:

Fixed

Framework:

Combined Scaffolding

Lapping Form:

Full Scaffolding

Move Method:

Attached Lifting Scaffolding

Construction Properties:

Building Scaffold

Transport Package:

Steel Pallets

Origin:

China
Material:

Steel

Structural Style:

Multi-Pole Scaffolding

Supporting Mode:

Projecting Scaffolding

Erection Position:

External Scaffolding

Scaffolding Part Type:

Scaffolding System

Trademark:

OEM

Specification:

48.3*2.5/3.0/3.2mm

HS Code:

7308400000
Product Information



Cup Lock Scaffold is a Modular Safety Erect Scaffolding System With Scaffold System of Cup Lock Scaffolding Standard, Cuplock Ledgers, Diagonal Braces, Intermediate Transoms, Hop Up Bracket, Steel Ladders and Scaffold Stairs, Screw Jacks.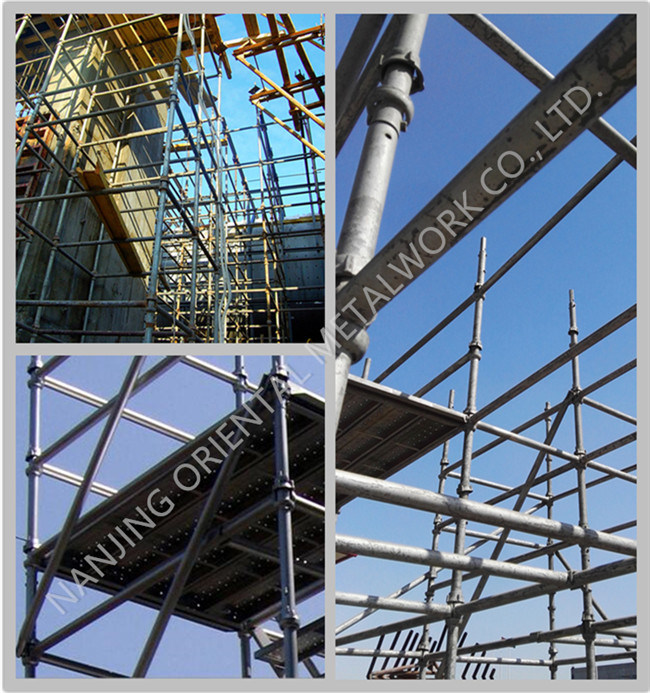 Vertical Standard
Hot-dip galvanized steel. Ø 48.3 x 3.2 mm. Equipped with Top Cups and Bottom Cups in which Ledgers and Braces are to be mounted. Distance between Bottom Cup: 500 mm.
 
Art.
Length
(m)
Weight
(Kg)
Detail
OSC-S-050
0.50Â 
3.53Â 
 
OSC-S-100
1.00Â 
6.31Â 
 
OSC-S-150
1.50Â 
9.05Â 
 
OSC-S-200
2.00Â 
11.82Â 
 
OSC-S-250
2.50Â 
14.57Â 
 
OSC-S-300
3.00Â 
17.34Â 
 
Ledger
Hot-dip galvanized steel. Ø 48.3 x 3.0 mm. Mounted into the space between Top Cup and 
Bottom Cup with the Blade, thus securing a rightangled scaffold. Serves as a guardrail.
 
Art.
Length
(m)
Weight
(Kg)
Detail
OSC-L-060
0.6
2.47
 
OSC-L-100
1
3.92
 
OSC-L-120
1.2
4.28
 
OSC-L-130
1.3
5.01
 
OSC-L-150
1.5
5.73
 
OSC-L-180
1.8
6.81
 
OSC-L-200
2
7.54
 
OSC-L-250
2.5
9.35
 
Brace
Hot-dip galvanized steel. Mounted into the space between Top Cup and Bottom Cup with the 
swivel Blade. Diagonal braces should be placed on at least every fifth section starting with the outer ones.
 
Art.
Length
(m)
Weight
(Kg)
Detail
OSC-B-1
1.8*1.5
8.25
 
OSC-B-2
1.8*2.0
9.31
 
OSC-B-3
2.5*1.5
9.99
 
OSC-B-4
2.5*2.0
10.86
 
OSC-B-5
3.0*2.0
12.1
 
Packing & Shipping



Packing: Packed with steel pallets and loaded with container, ensure sea transportation.
Shipping: 20 days after reception of L/C or deposit.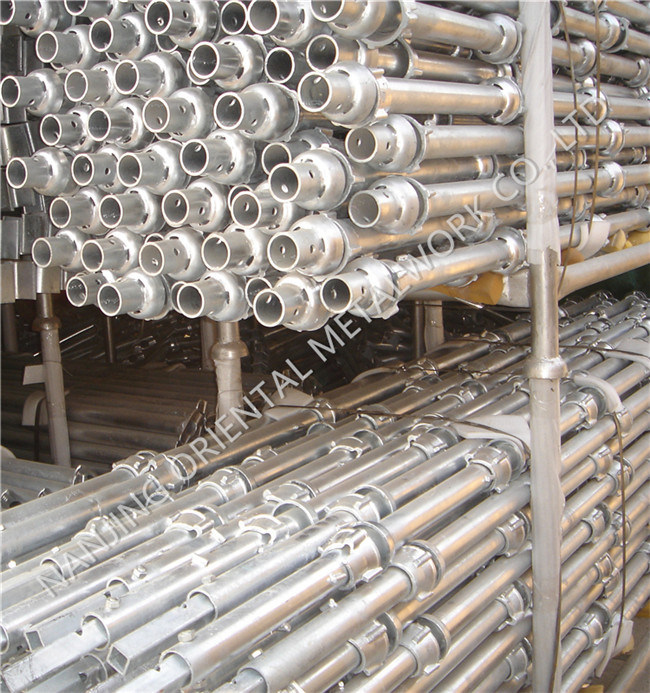 Our Services

• Your inquiry to our product will be replied within 24hours.
• Experienced sales team are able to answer all your inquiries.
• 10 years experienced tech. team could meet all your demands.
• OEM services could be provided, we are willing to marking logo or paste stickers for you.
• Good after-sale service offered, multiple solutions will be provided for problem.

Company Information

ORIENTAL is committed to becoming a leader in the manufacturing of scaffolding and other construction material like Synthetic resin tile and FRP products, we will deliver high quality, innovative products that meet or exceed our customers' requirements. From 2006 till now, our products were sent to more than 20 countries from Southeast Asia, North and South America, Europe, Australia and North Africa. With years of collected experience in oversea sales, we offer a complete product range which fills all needs and inquiries to clients from all area and projects with all conditions. Our main products - Scaffolding systems, stages, fences as well as couplers and other accessories are available in steel, aluminum and fiber glass.
In this brochure, you will see how the ORIENTAL products can be used to meet virtually any access or support requirement. Easy to erect and entirely stable, our products are ideally suited to your construction challenges. With ORIENTAL METALWORK you will always count on our thorough services, professional technical support and high quality product.

How to Contact us

- Nanjing Oriental Metalwork Co., Ltd.
- Attn: Amy Guo
- Tel.: +86 25 58370703

Looking forward to work with you!
Leather Measuring Tape,metric tape measure,fabric tape measure,long tape measure
Shangqiu Haoyu measuring tools Co., Ltd , https://www.sqhaoyutools.com