Length:
1-12m,or as Required
Colors:
Silver, or as Per Customer Requirement
7075 T6 Aluminium Alloy Tube
specification
 
Alloy NO.

1000

 

series




2000

 

series




4000

 

series




5000

 

series




6000

 

series




7000

 

series

Temper

O\H12\H14\H16\H18\H22\H24\H26\H32\H34\H36\H38\T4\T6\T651Â 

Specification

Diameter: 30mm--350mm




Length:Â 1-12m,or as required

Surface treatment

coated,polished,embossed, etc

Colors

Silver, or as per customer's requirement

Features

High weather resistance \anti scratch anticorrosion \ easy processing,installation\ high brightness.

Application

Building material, irrigation pipe for vehicle and bench, such as furniture, elevator, fencing ,etc. 

Package

Standard seaworthy export packing: wooden pallets with plastics protection

Payment terms

30% TT deposit, the rest against the BL copy.

Delivery time

20 days 

MOQ

1 metric tons

Port

Qingdao, Shanghai
Notice: Specific requirement of alloy temper or thickness can be produced as your request. 
Surface Quality
 
1. There are no macular or roll marks on the surface of aluminum billet & bar. 
2. There is no water corrosion on the surface. 
3.The surface of aluminum  billet & bar is very clean without lots of impurities.
 
Notes
 
1. In order to give you an accurate quotation, we need you provide the information such as: alloy no.,  temper, size, application and  quantity.
2. We can provide all kinds of service as per your requirements, and we can also give some advice for your
reference.
3. The pictures provided are just for your reference.
Quality control
Aluminium alloy melting and casting equipment
Outer guiding a fixed static static static allocation of company casting workshop 10 tons of regenerative aluminum melting furnace, 15 tons of regenerative aluminum melting furnace a, 25 tons of regenerative aluminum melting furnace; 10 tons of tilting furnace, 15 tons of tilting furnace, 25 tons of fixed furnace; 25 tons of homogenizing furnace 2 sets of 15 tons of homogenizing furnace a. 25 tons of cooling chamber a; 3 tons of rectangular aluminum melting furnace; 1.5 tons of medium frequency coreless induction melting aluminium furnace; equipped with the most advanced hydraulic casting machine, including 10 tons of casting machine 2 sets of 15 tons of casting machine, one Taiwan, 25 tons of casting machine, one Taiwan; also equipped with the most advanced permanent magnet aluminum alloy solution mixing system. The workshop can be cast from 1 series to 8 series of all kinds of aluminum alloy round ingot and hollow ingot.




Aluminum alloy extrusion equipment

Extrusion workshop equipped with the current domestic advanced double acting reverse hydraulic extrusion machine and other pair of moving forward, single acting forward hydraulic extrusion machine, is the domestic production of high strength hard alloy tubes, rods, profiles varieties, large scale production enterprises.
Main equipment:
1, Taiyuan Heavy Industry Design, production of 100MN double action forward extrusion press for a 
2, Taiyuan heavy industry production 75MN double acting forward extrusion machine, one Taiwan 
3, Taiyuan heavy single action 55MN extrusion machine:Â 
4, SMS Demag produced 55MN double action reverse extrusion machine 
5, Taiyuan heavy machinery factory production of 36MN single extrusion machine two
6, SMS Demag produced 28MN double action reverse extrusion machine
7, Taiwan Meirui 26USTon single acting extrusion machine:
8, Taiwan Meirui 21USTon single acting extrusion machine:
9, Taiwan Meirui 18USTon double action extrusion machine two
10, Taiwan Meirui 11USTon double action extrusion machine two




Aluminum alloy cold working equipment

Company is equipped with professional ingot saw cutting, wagon, boring equipment can be of a diameter of 170 - 805 mm round ingot and hollow spindle for deep processing. The company also has a complete set of processing equipment and the production of cold processing equipment, there is a domestic advanced 3T vertical quenching two; 12, 6 meters and 24, 12, 6 meters aging annealing furnace. Configuration of 20Mn, 10MN, for 3.6 Mn tons hydraulic tension straightening straightening machine for domestic large tension straightening machine, straightening aluminum length range is 2.5-14 meters; profiles for: 200 mm, width of 900 mm, tube, bar diameter range: 150-500 mm. Large industrial profiles, such as national defense industry, high speed train, etc., can be straightened out. Configuration GZ4232, GZ4232A, GZ4265 type automatic high-speed horizontal band saw machine special and GZ5360/100T, GZ4265 type automatic high-speed special vertical band sawing machine each one, can be sawing various 100-600 mm long and 14 m in diameter tubes, rods, profiles, is currently the most advanced, saw blade with thin aluminum materials saw cutting special equipment.

Certificate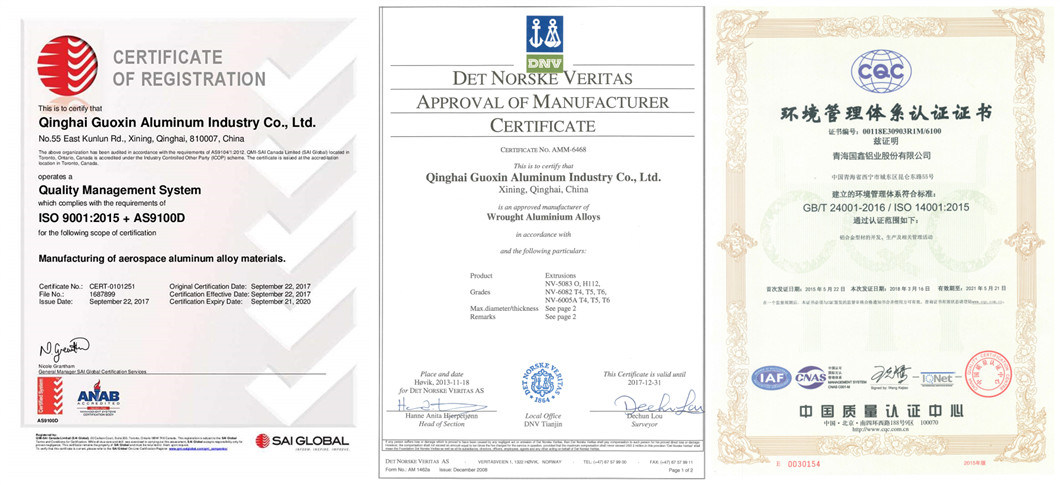 FAQ
Q: How can you ensure the quality of products?
A: We have a very strict quality control system, in our factory we have 248 quality control inspectors and each of them have many years of working experiences. Each machine has 2 quality control inspectors and every part of production process have a senior inspector even in the packaging part.

Q: Why Choose Qinghai Guoxin Aluminum Industry? 
A: Because we are factory, we can provide competitive price and best quality, we have strict quality control and the most import is we have a large production scope.

Q: What can we expect from Qinghai Guoxin Aluminum Industry ? 
A: Superior quality, reasonable price, exclusive service, and good after sale guarantee. 

Q: Can you do customized design and size? 
A: Yes, ODM &OEM are available.

Q: Can I have some samples?
A: Of course, samples are free (1-3 pcs) or 2-3 kg

Q: When can we get samples and goods? 
A: Samples will be sent immediately if have stock, make new will take 2-3days. 
     Goods will be shipped within 20 days after order confirmed. 
Company profile
Qinghai Guoxin aluminum industry Co., Ltd is Qinghai Province Investment Group Holdings Limited is a professional production of high precision, high strength, hard aluminum alloy tubes, rods, profiles production enterprise. The company registered capital of RMB 354 million yuan, the total assets of 1 billion 380 million yuan.
Company has advanced horizontal hydraulic extrusion machine, the main body of the extrusion equipment 100MN, 75MN double action forward extrusion machine; 55Mn, 36MN single moving forward extrusion machine; 55Mn, 28MN double reverse extrusion machine; 2600USTon 2100USTon single forward extrusion machine; 1880USTon, 1100USTon double action is to squeeze machine. Among them, 55MN and 28MN double acting reverse extrusion machine full set of equipment manufactured by the German company sms. The extrusion diameter for all kinds of tubes and bars of 50-520mm; area of various types of profiles of 4 ~ 418cm2. High precision cold processing equipment 20MN, 10MN, 6MN tension straightening machine; 120t, 30t, 10t, LG60-H, LG90-H drawing machine; LG30-H series of cold rolling mill. Excellent production technology and equipment, advanced equipment, the main production equipment and testing equipment were introduced from abroad. The company mainly produces high precision, high strength, corrosion resistance, wear-resistant special aluminum alloy pipe bar. Products are mainly used in aviation, aerospace, petroleum, military, new energy, heavy industry and other special areas.


 
Organic Pigments are further divided into two subgroups:
Natural organic pigments And Synthetic Organic Pigments
Common types include azo pigments, lake pigments, phthalocyanine pigments and quinacridone pigments. They are all artificially synthetic organic compounds. The intermediate, synthesis process and equipment required by such kind of pigments are generally the same as that required by organic dyes, therefore usually manufactured in the dye industry. However, as pigments, they are, after all, different from the organic dyes.
Organic Pigments
organic pigments,organic color pigment,organic pigment powder
Yucheng Jinhe Industrial Co.,Ltd , https://www.jinhetec.com